With FNBO, Today's Banking is Collaborative, Modern and Convenient
Amy Martin, May 30, 2023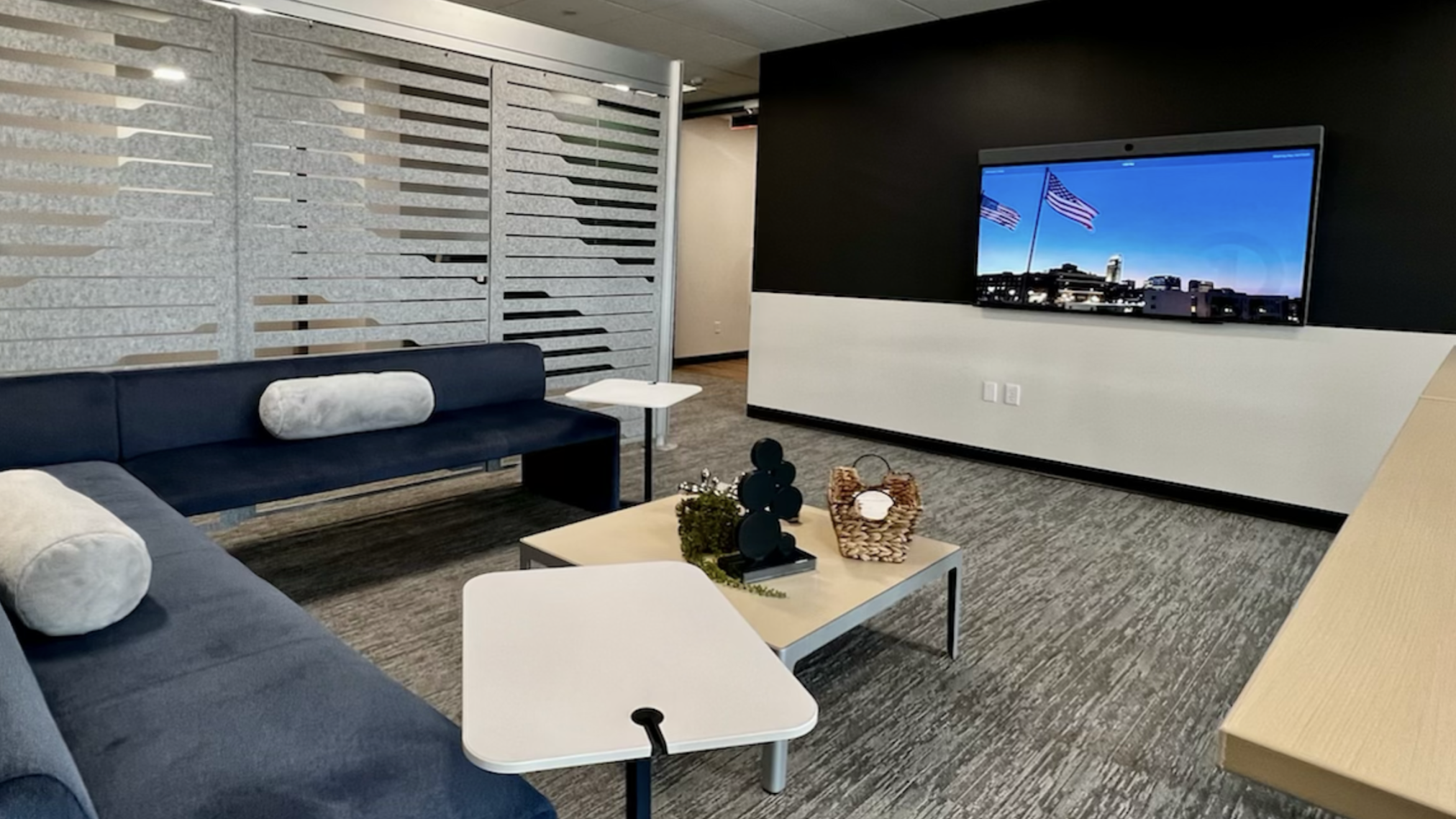 How does a 165-year-old independent, family-owned bank continue to modernize and thrive today and into the future? First National Bank of Omaha (FNBO) is doing just that with a commitment to being there for their customers, an intense focus on innovation and a willingness to go above and beyond to create the workplace of the future.
FNBO, with headquarters in Omaha and primary banking centers in eight states, describes itself as "the great big small bank" whose purpose is to improve the financial wellbeing of their customers and help build strong communities. At the same time, they are committed to providing a modern, collaborative and convenient workplace for their nearly 5000 employees and have undertaken a massive update to their headquarters space and technology solutions to ensure every employee can complete their work efficiently, where and when they need to.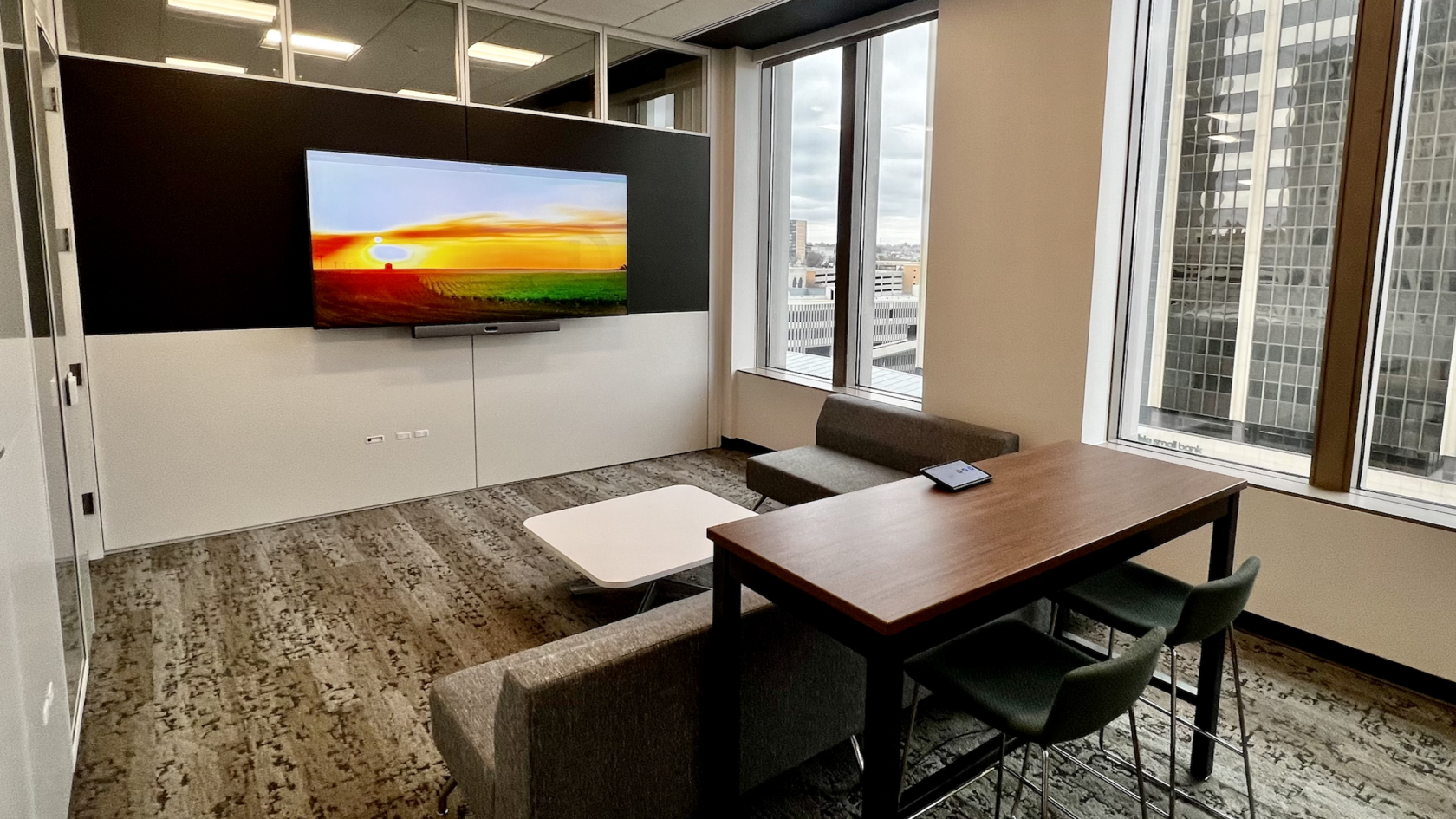 Creating the Workplace of the Future
Prior to the pandemic, FNBO was like many financial institutions with the expectation that most work is done in the office. In a very short period of time, FNBO has turned that notion on its head to offer a hybrid working environment for all employees, except those in customer-facing branches. The bank has made a significant investment in deploying video technology to support remote and hybrid work and is remodeling their entire corporate office to create a modern, flexible workspace where employees can collaborate freely and work more efficiently.
Since the pandemic, we've gone from having almost no video capabilities to having hundreds of video-enabled rooms in our headquarters and remote locations. This gives our employees the flexibility they need to work equitably with people both in and out of the office.

Lee Kuenstling, AV Systems Manager.
Recognizing that the way people want to work was fundamentally changing, FNBO acted quickly and strategically to create spaces where all employees could thrive and were given equal opportunities to contribute. FNBO embarked on a complete redesign of their Omaha offices to focus on a more modern aesthetic with a dynamic floorplan including collaborative meeting spaces, focus rooms, various sized conference rooms and individual spaces. Their headquarters building is the tallest in Nebraska, so the new design takes advantage of sweeping views and natural light combined with adjustable tables and seating areas to create a flexible space where employees can move about depending on the type of work they're doing.
"As we designed our new office space, we gave real consideration to how individual employees would work throughout the day and created spaces to support that," said Kuenstling. "As we've opened our new office areas, employees have been excited to come back and get together. We didn't have spaces like this before and they're now delivering a great employee experience."
Technology Erases the Difference between Office and Remote Work
FNBO began using Zoom to collaborate remotely during the pandemic and still appreciate how easy it is to use while providing a powerful collaboration experience. For creating their workplace of the future, FNBO selected Neat video devices including Neat Bar, Neat Bar Pro, Neat Pad and Neat Board to provide simple, consistent video experiences throughout their offices.
A key benefit of Neat and Zoom is how easy they are to use and deploy, particularly since video conferencing was newer for the bank. Neat devices are easy to install and maintain, so the IT team was able to quickly and easily roll them out across their office spaces. And users enjoy a familiar and consistent experience with every Neat device, so it is just as easy to get started collaborating in the office as it is from their laptops at home. Plus, the sleek and simple design of the Neat devices fits beautifully within FNBO's new modern office aesthetic.
In the past, people may have had the mindset that everyone needed to be in the office to do the really important projects and work, but with Neat and Zoom everyone is 'here' even if they aren't all in the same room," said Kuenstling. "Everyone can be seen and heard equally, everyone can see the whiteboard and any content, and everyone can participate equally. That has really opened up our organization to recognize that work done in the office and work done at home can be the same.

Lee Kuenstling, AV Systems Manager.
FNBO has achieved a dramatic cultural shift to hybrid work in a short period of time, creating a modern, flexible workspace that truly works for all their employees. At the same time, they haven't left behind the traditions and customer focus that makes them a trusted financial partner for the communities they serve.
To find out more about any of Neat's devices visitneat.no/devices.