The Best Zoom Room Yet
Neat, Jun 23, 2020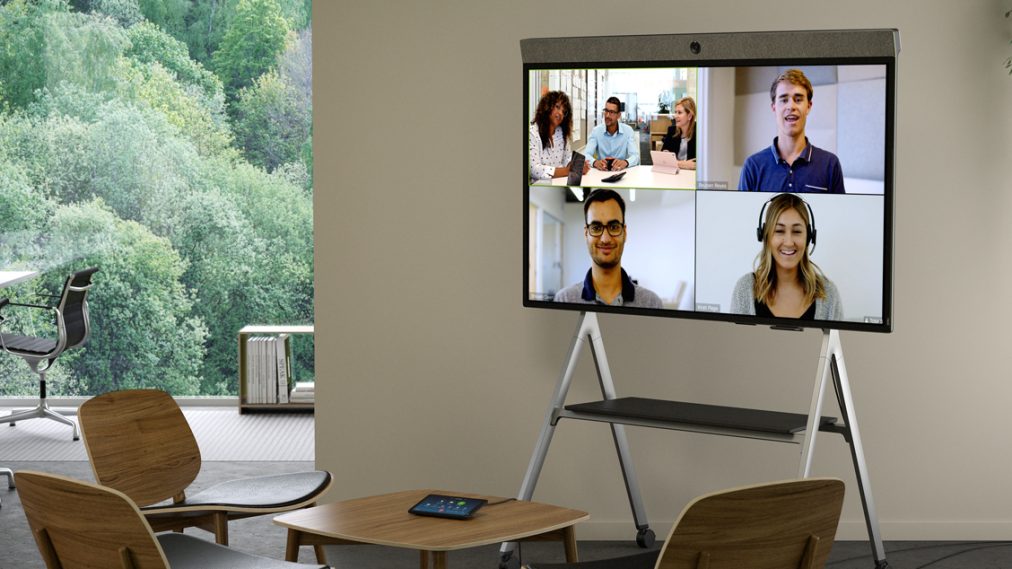 Neat Board: Our beautifully sleek 'Zoom-in-one' collaboration device now available for pre-order.
Finally, the wait is over!
Neat Board, the complete Zoom Rooms package, can now be pre-ordered from
neat.no. This beautifully sleek all-in-one design is ideal for your open areas, huddle spaces and meeting rooms of up to ten people. It's reliable and amazingly simple to set up. Just plug in the power cable, and you're good to go. And at only US$ 4,500, including free shipping on pre-orders, it's an incredible value.
Incorporating a 65-inch multi-touch LED screen, powerful audio system and versatile wide-angle camera, Neat Board gives you a totally new Zoom Rooms experience. Beyond video meetings and wireless content sharing, it enables annotations and whiteboarding. With Neat Board, we've thought of everything.
Perfect for sharing visual ideas
Neat Board lets you make notes, organize thoughts and provide quick visual feedback, whether people are right there in the room or on video. What's more, it responds to your presence by automatically waking up the moment you walk in the room. Just one tap and you can wirelessly share your screen, quickly start your meeting or mark something up using Neat Marker.
Neat Marker is our personalized stylus for sketching or writing annotations without using your fingers to touch the screen. It magnetically attaches to a holder beneath Neat Board, which equally serves as cable management. Neat Marker is passive, so you don't have to set it up or charge it.
Superb audio and video
Incorporating an advanced five microphone end-fire array that runs our hardware-based Neat Audio Processing (NAP), Neat Board has a superb audio reach of up to 16 feet (5m). NAP removes any 'double talk' issues, where a person's voice becomes garbled or muted by someone else talking over them or by any background noise, making conversations sound more natural. Thanks to Neat Board's speaker box, you can enjoy maximum tonal range with minimal distortion. Its opposing speaker drivers eliminate vibrations, and the dedicated tweeter ensures rich high definition sound.
Other prominent features include a 4x digital zoom camera, offering variable zooming and automatic framing of people throughout your open areas, huddles spaces and meeting rooms. Built-in sensors empower you to monitor air quality, including room temperature, humidity, CO2 and Volatile Organic Compound (VOC) levels.
Comes with accessories and options
Neat Board comes with a table stand, 5m ethernet cable, 3m power cord and a pair of Neat Markers, so two people can sketch or write annotations at the same time. Additionally, you can configure Neat Board with a specially designed wall mount (US$ 200) or mobile floor stand with shelf (US$ 900). It's easy to attach Neat Board to either one, and the floor stand allows you to conveniently move between rooms.
By adding a Neat Pad controller (US$ 500), you can start your meetings, tap mute and more without having to get up. You can also add another Neat Pad as a scheduler, giving you optimal booking of the room and taking your Zoom-in-one experience to a whole other level.
Fully managed through Zoom
Designed to provide everything you need in your Zoom Room today, Neat Board gives you the freedom and flexibility to collaborate how you want in the future. Being a dedicated Zoom hardware device, you can fully manage everything from the Zoom portal, with all updates, upgrades and support securely applied through Zoom.
Visit
neat.no to learn more. Pre-order Neat Board today, and be one step closer to enjoying your 'Zoom-in-one' experience the Neat way.