Miami Herbert Business School – Educating Tomorrow's Business Leaders with Zoom + Neat
Neat, May 11, 2021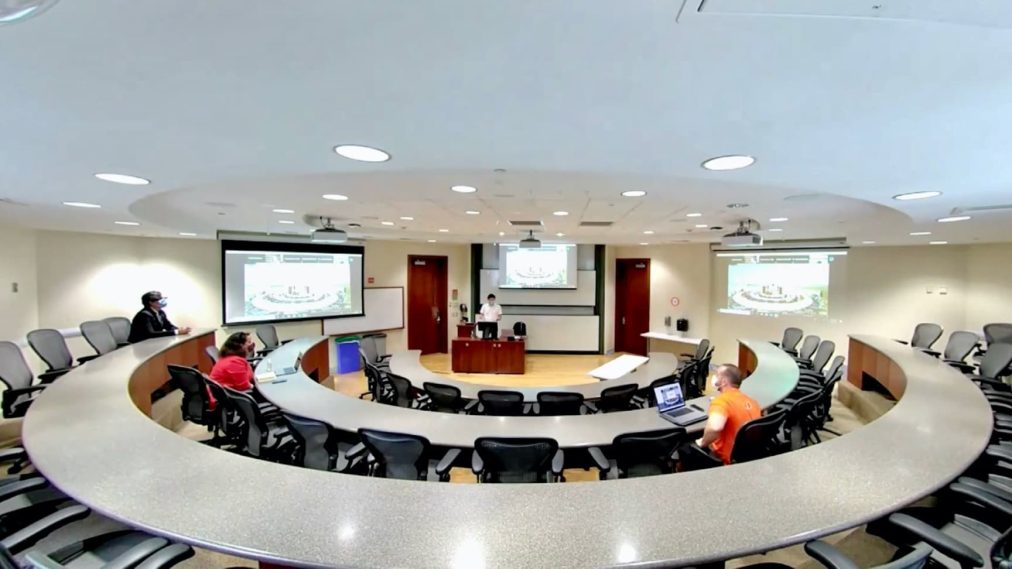 The University of Miami Patti and Allan Herbert Business School, one of 12 schools and colleges at University of Miami, offers undergraduate, master's, doctoral, and executive education programs focused on educating future leaders in the world of global business. The school has a global reputation for excellence and prioritizes innovation and thought leadership to deliver a compelling curriculum and set the standard for business education.
In early 2020, the school finalized a five-year technology roadmap that included plans to deploy advanced classroom technology that would enhance the school's robust curriculum and position the school as leaders in using technology to drive educational excellence. Residing in a hurricane zone, a key component was to support the development and sharing of digital content in case of school closures or students being unable to travel to campus. When the COVID-19 pandemic hit in March 2020, Miami Herbert realized they needed to accelerate the deployment plan and quickly expanded their use of Zoom to implement it across the school.

Many faculty members did not have prior experience using Zoom and were reluctant to embrace it because they'd had sub-par experiences with the school's previous video conferencing service. Knowing that it was critical to have the faculty wholeheartedly on board with using Zoom to continue classes, Zheng Fan, Executive Director of IT for Miami Herbert, provided personalized training to the faculty so that by April they had addressed faculty concerns and were up and running holding virtual classes via Zoom.
"While some faculty were initially hesitant to use Zoom, once they tried it, they loved it because it is so easy to use and continued to expand the features it offers," said Fan. "With Zoom, we were able to quickly get back to class virtually, delivering high-quality teaching and a good experience for students."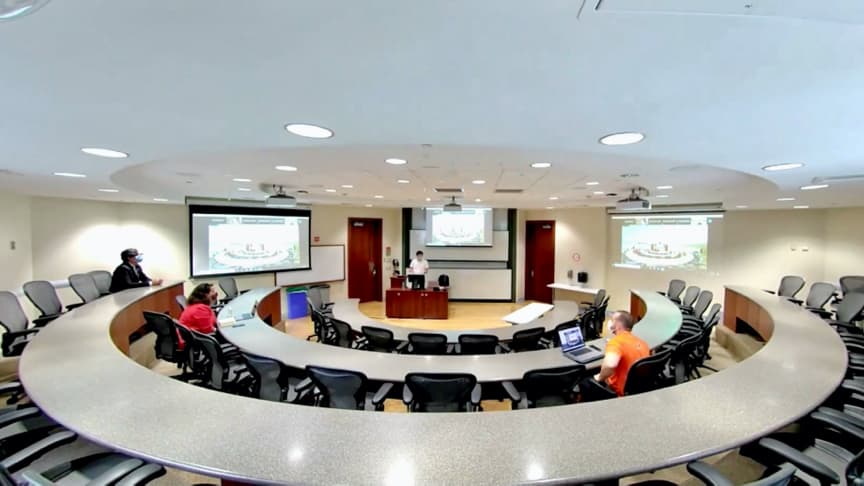 No Student Left Behind with Neat Bar and Zoom Rooms
The next phase of the accelerated plan involved outfitting classrooms with the right technology to facilitate engagement and interaction between in-person and virtual students and instructors as well as support digital content sharing in the long term. Having begun remote learning, Miami Herbert recognized that hybrid learning was likely to be the future, even beyond the pandemic, and wanted a solution that would support creative teaching methods and enrich their program offering. Additionally, they wanted a hardware solution that was tightly aligned with Zoom, easy to install, and provided exceptional quality and reliability.
Fan determined Neat Bar met all their IT requirements and partnered with Miami Herbert's Vice Dean, Henrik Cronqvist, to test the solution and ensure it would support all the needs of faculty and students. In a creative effort to get feedback from the broader faculty, Fan and Cronqvist joined a virtual faculty happy hour from a classroom using Neat and Zoom, so the rest of the faculty could get a first-hand sense of how it would look and sound.
"It was critical that the faculty embrace the solution so it could be used effectively to deliver the exceptional education that we promise our students," said Cronqvist. "Once we deployed the Neat Bar and began using it with students, we found it offered a much more engaging and interactive experience than other options would have. Plus, it gave faculty the freedom to think creatively about how they could adjust their curriculum to take advantage of simple collaboration with business leaders around the world."
Miami Herbert deployed Neat Bar in all classrooms at the business school, mounting it in the back of the room so that virtual students would have a view as if they were sitting in the room with their classmates.
Neat Bar provides a high-quality view of the classroom for remote students and clear audio to support the full learning experience. With Neat Bar and Zoom Rooms, in-person and remote students are on a level playing field, with no group left out of class discussions and activities.
"Installing Neat Bar in the classrooms was very easy, and with it mounted in the back of the room it easily supports our faculty's typical teaching and collaboration methods," added Fan. "Working with Zoom and Neat has been a great experience – both companies are innovative and continuously rolling out new features to support customers which helps us continue to improve the virtual experience we deliver to students."
Accelerating Towards the Future of Education
Miami Herbert's five-year technology plan was designed to deliver expanded and enhanced educational opportunities for its students, and Zoom Rooms and Neat Bar are poised to propel their teaching modality into the future. The deployment supports continued hybrid learning and the development and sharing of digital content to keep students and faculty connected in case of a hurricane or other natural disasters. Additionally, it opens up myriad opportunities for collaboration and connection with businesses and individuals around the world.
One exciting use is bringing in guest speakers, which are commonly part of classes at Miami Herbert. The School was limited to speakers, who range from alumni to business experts, who were local or traveling to the area, but now experts from around the world can pop into classes virtually and engage in a robust, natural discussion with students, supporting the School's mission to develop leaders who will transform global business.
In addition to individual class guests, Miami Herbert also hosts the Dean's lecture series that brings top business leaders to share insights with students, alumni and other members of the University of Miami community. Using Zoom and Neat, the school can now expand its marquee guest list to executives unable to travel to Miami, as well as open attendance at the lectures to friends of the University outside the area.
"We pride ourselves on driving innovation and using cutting-edge technology to support education and our standards of excellence," added Cronqvist. "During the pandemic and well beyond, with Neat and Zoom we are fully equipped to connect our classrooms to business leaders around the world and bring the world of global business back to our students in Miami."