Keeping the School Community Buzzing
Neat, Nov 5, 2020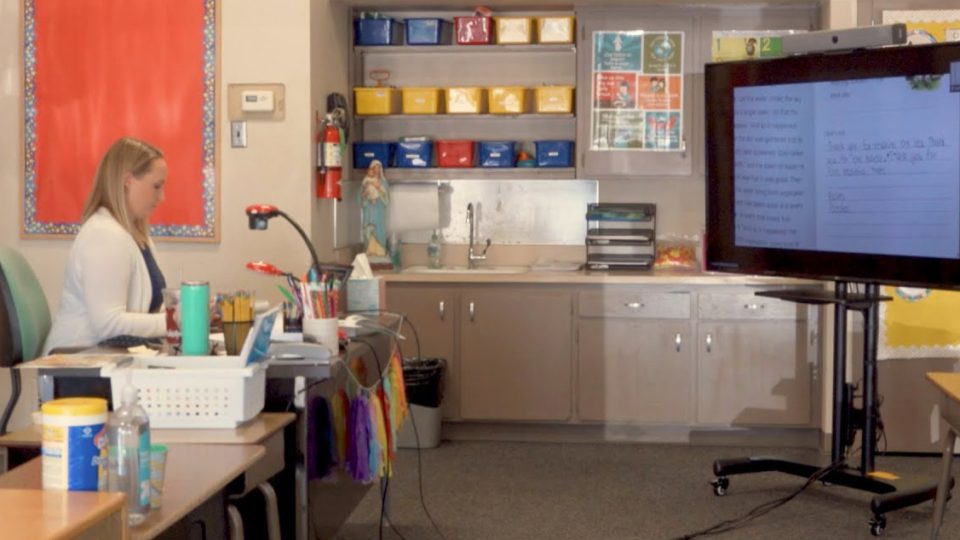 St. Isabella School uses Neat Bar with Zoom Rooms for greater interactive remote learning, ensuring its community and curriculum thrive.
As COVID–19 continues to impact schools, colleges and universities worldwide, forcing remote or hybrid learning, teachers are forever having to find new ways of maintaining student engagement. Amid the various challenges, Zoom's revolutionary software platform has fast become an academic lifeline for millions. But as educational institutions try to begin a new school year, many are realizing they need to equip their classrooms further.
Since the new normal kicked in, Neat is rapidly advancing to provide the best solutions for faculties, staff and classmates with our specifically designed for Zoom, simple and reliable video hardware devices. Neat Bar, for example, offers an unbeatable combination of leading-edge tools that enable teachers to deliver outstanding virtual learning experiences from the classroom to remote students, resulting in a more close-knit and rewarding class environment. A case in point is St. Isabella Catholic School in Northern California.
Turning to Zoom and Neat
St. Isabella teaches kids from kindergarten age to 8th grade and prides itself on creating a caring community where teachers, students and parents all feel like one big family. Similar to many other schools, the authorities asked St. Isabella to close in early March when the pandemic first hit. Switching to remote learning to support its students, the school started using Zoom. Then when the time came for teachers to return to school in the fall, St. Isabella chose to deploy Neat Bars in its classrooms to help bring about greater interaction between teachers and students. Equally important was ensuring everyone still felt an integral part of the community despite not being on the school premises together.
"When we came back to school in the fall, we wanted everything to be as much like a normal school day as possible. That's when we decided to get Neat Bars. Neat Bar and Zoom Rooms have enabled us to continue building our community. The students can ask questions or write in the chatbox, and the teachers can answer them." Rob Pheatt, Principal at St. Isabella Catholic School
Easy to install, set up and use
Like all Neat devices, Neat Bar is so easy to install, set up and use, teachers never have to stress about learning or operating sophisticated technology. Neat Bar empowers them to teach as they usually would. With just one tap, teachers can easily start lessons and share any written, audio or visual content, secure in the knowledge that Neat Bar will instinctively frame them perfectly.
"One of the things I enjoy most about using Neat Bar is that it's so easy to use. The students see me teach as I naturally would with them in the classroom every day. It's really made a difference – their experience is much more interactive. I wish everybody could have this in their school because it's a definite, definite plus to have Neat Bar here at St. Isabella." Ann LaCose, 6th Grade Teacher at St. Isabella Catholic School
Incredibly dynamic audio range
Neat Bar gives students a crystal clear, wide-angle view of the classroom, and has an incredibly dynamic audio range that picks up everything teachers say, whether they're sat down at their desk, standing up, pacing around the room or facing away from the camera. At St. Isabella, Neat Bar has equipped the teachers with the resources and flexibility to help students carry on pursuing all their classes and educational goals. Even subjects like art and PE – things that would otherwise be impractical.
"I feel like the students really see my classroom and feel a part of it. Seeing their faces all on one big screen is very important. Being able to figure out if they're actually on the right page – I think it's actually changed my opinion on distant learning and made it more positive." Danielle Boland, 1st Grade Teacher at St. Isabella Catholic School
Safe and healthy classrooms
When it comes to hybrid learning, and whatever other future educational challenges lay ahead in the physical classroom, the well-being of teachers and students is paramount. Therefore, Neat devices incorporate Neat Sense, an advanced set of capabilities to let teachers monitor and control classrooms, securing a safe and healthy environment. Available via the Zoom portal in December, school administrators can get data visualizations on the Zoom dashboard for noise, light, the number of students in a room, or whether it's empty. They'll also be able to check environmental factors like air quality, humidity, CO2 and VOC (organic chemical levels in the room – scents, odors, etc.)
"I would imagine that once more schools find out about what we're doing – using Neat Bars with Zoom Rooms – that they're seriously going to look at their own online program and see how they can improve." Rob Pheatt, Principal at St. Isabella Catholic School
For more info about Neat devices and Modern Learning the Neat Way, visit neat.no.
To learn more about how St. Isabella's school community is leveraging Neat and Zoom, watch their story on the Neat YouTube channel.